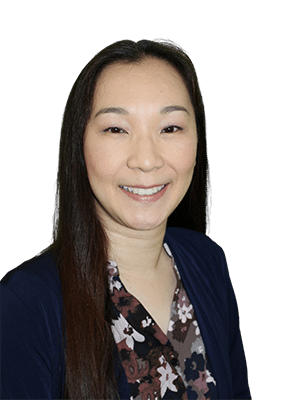 Background
I graduated from Bonita Vista High School, where my now-husband and I became high school sweethearts. While attending University of California, San Diego, I explored my different career options. I chose to become a dentist because I wanted to help others by improving their health and I wanted to provide the best treatment for my patients without being told how to treat patients by a big hospital or an insurance company interested in their bottom line. After graduating magna cum laude from UCSD with a Bachelor of Science degree in Molecular Biology, I received a UC Regents' Scholarship and studied for another 4 years to become a dentist at the University of California, Los Angeles, School of Dentistry. I obtained my D.D.S. (Doctor of Dental Surgery) with magna cum laude honors and numerous other awards. From there, I honed my general dentistry skills with a 1-year AEGD residency (Advanced Education in General Dentistry) at the University of Florida, College of Dentistry, Jacksonville program. I moved back to Southern California and, for several years, provided dental treatment for many patients as a general dentist. Treating patients, who had poor alignment of teeth, made me appreciate the oral health benefits of having proper alignment and bite relationships. It sparked my interest in orthodontics. I pursued my post-graduate training from the 30-month orthodontic residency program at the University of Colorado, School of Dental Medicine, where I earned my specialty certificate in orthodontics and dentofacial orthopedics and a Master of Science degree in Dentistry.  I am a board certified orthodontist and the only Japanese speaking orthodontist in San Diego county.
Integrity & Trust
I consider myself to have high ethical standards and integrity. Everyday, I try hard, give it my all, without compromising on integrity, and strive to be a good person. It is ingrained in me to always try my best. Thus, you can count on me that I will do the best that I can to provide the best possible orthodontic care for you or your child.
Intellectual Curiosity
It is in my nature to be curious about a variety of topics and I love gaining new knowledge.  This thirst for knowledge is one of the reasons why orthodontics is fascinating to me.  There's always new technological advances and research articles coming out, which may affect the way we should practice orthodontics. It is called the "practice of dentistry" because we, dental professionals, should never stop learning. I will be a perpetual student in the field of orthodontics, never ceasing to advance my knowledge and skills, so that I may be able to provide the best care for my patients.
I Love My Profession
I love being an orthodontist! The best part of my work is being able to contribute to my patient's happiness in life by helping to attain a beautiful smile to match the inner beauty that each and every patient possesses. In addition, I enjoy getting to know each one of my patients and building relationships.  Seeing my patients on a regular basis during treatment is fun! Treating adolescents is particularly rewarding because I often get to contribute to their transformation toward adulthood.
Personal Background
I have lived in many different cities, including in Japan and Canada, but it's difficult to live anywhere else when I have been spoiled here in San Diego! My favorite part of San Diego is the nice easy going people and, of course, the weather.  My husband and I have been married 15 years and we have 2 daughters.  I enjoy spending time with my family, eating a variety of foods, surfing the web, and drinking tea. My other interests include playing games and cooking new dishes.
Education
University of Colorado, School of Dental Medicine
MSD and Certificate in Orthodontics and Dentofacial Orthopedics
University of Florida, College of Dentistry, Jacksonville Program
Certificate in Advanced Education in General Dentistry
University of California, Los Angeles, School of Dentistry
University of California, San Diego (Revelle College)
BS Molecular Biology, magna cum laude

 
Honors & Awards
UCLA School of Dentistry
Magna Cum Laude
Regents Scholar
Dean's Letters
Julius F. and Eleanor Sue Foundation Scholarship
Organization of Teachers of Oral Diagnosis Award
UCLA Excellence in Operative Dentistry Award
UCSD
Magna Cum Laude
Phi Beta Kappa Honor Society
Provost's Honors
Golden Key National Honor Society
Professional Memberships
Diplomate of the American Board of Orthodontics (Board Certified Orthodontist)
American Association of Orthodontists (AAO)
Pacific Coast Society of Orthodontists (PCSO)
American Dental Association (ADA)
California Dental Association (CDA)
San Diego County Dental Society (SDCDS)